General Press Release
The Walking Dead: Our World rises to top download charts on its opening week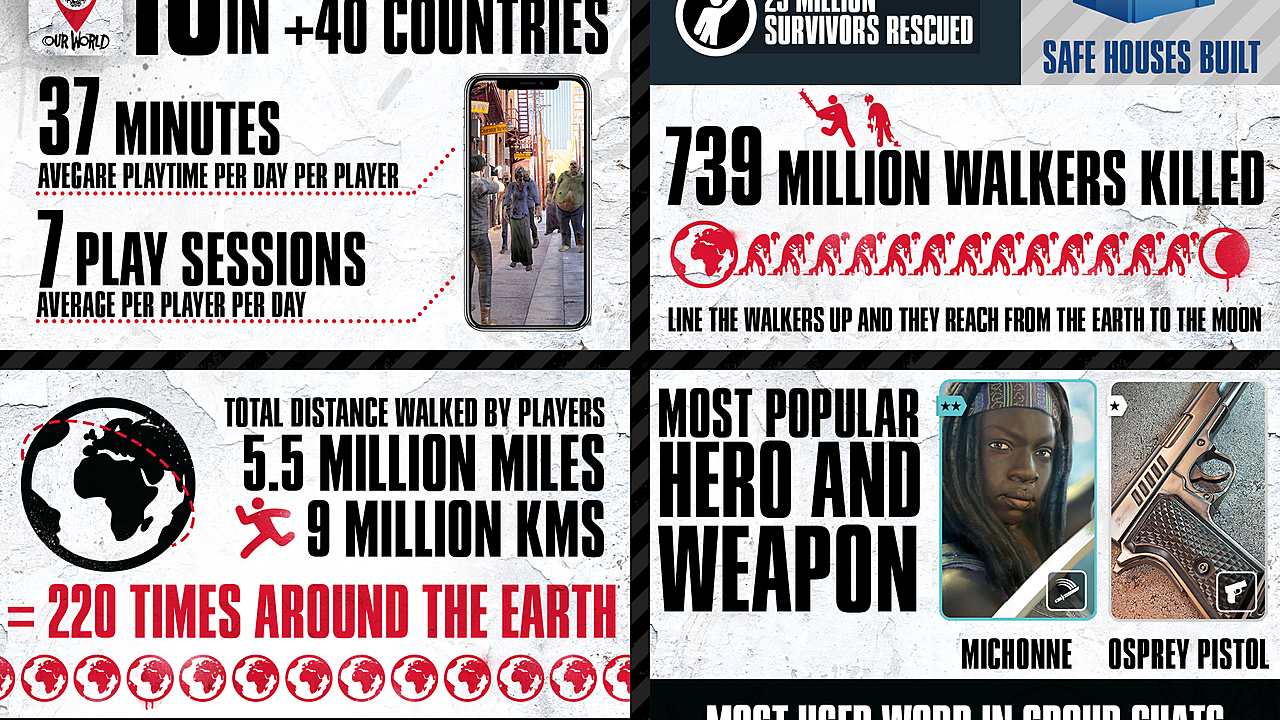 The Unique Location-Based AR Title Based on AMC's Hit TV Series Hits #10 Downloaded Game in Over 40 Countries Worldwide
NEW YORK & HELSINKI - July 20 2018 - 1am EST / 8AM EET - Next Games and AMC released The Walking Dead: Our World, the unique location-based AR mobile game based on AMC's record-breaking TV series, on Apple App Store and Google Play on July 12th. On its opening weekend, the game quickly rose to top 10 ranks in the games category across more than 40 markets including the United States, Germany, United Kingdom, France and Spain.
"We are very happy with the game's reception and the excellent download chart positions we achieved on the opening week. Like all Next Games' titles, this game, crafted with love and care, is being developed as a long term service. A week after global release, we are at the very beginning of this exciting journey. On the first week, an average player played 7 sessions and spent 37 minutes per day in the game. The players have collectively completed 100 million missions and walked 9 million kilometers (5.5 million miles), which is 220 times around the Earth. The most active cities are New York, Paris and Tokyo. We are also seeing a promising trend in early monetization with the first week's average revenue per daily active user at 0.35 euros, which is a very good result at launch," commented Teemu Huuhtanen, Chief Executive Officer, Next Games.
Opening week fun facts
#10 game download in over 40 countries!
Average playtime per day per player: 37 minutes
7 play sessions per player per day
739 million Walkers killed - Line them up and they reach from the Earth to the Moon!
100 million missions completed
25 million Survivors rescued
1.4 million safe houses built
Total distance walked by players: 9 million kms / 5.5 million miles
= 220 times around the Earth!
Top 5 most active cities: Paris, New York, Tokyo, Singapore, Leipzig
Most used word in group chats: ****
Most popular hero: Michonne
Most popular weapon: Osprey pistol
Player reactions
"Brilliant game!!!!! Makes me miss the show."
"This game is great ... Awesome work Next Games. Keep it up"
"Cool out and about game love it"
1st week fact sheet: https://nextgames.box.com/s/j4up1ksraiz7seglxw5hhioztn11zivg
Game download link: www.getourworld.com
Trailer: https://youtu.be/hKZwotdaGX0
Website: www.thewalkingdeadourworld.com
Additional information

Next Games
Saara Bergström
+358 (0)50 483 3896
press@nextgames.com
About Next Games

Next Games (Helsinki Nasdaq First North: NXTGMS) is the first publicly listed mobile game developer and publisher in Finland, specializing in games based on entertainment franchises, such as movies, TV series or books. The developers of the critically acclaimed The Walking Dead: No Man's Land redefines the way franchise entertainment transforms into highly engaging service-based mobile games. Next Games launched The Walking Dead: Our World on 12 July, which utilizes cutting edge AR technology and is powered by Google Maps. Currently Next Games is working on three new games based on popular entertainment franchises including a mobile game for the popular Blade Runner franchise.  Next Games employs over 120 people and is based in Helsinki, Finland. For more information head to www.nextgames.com
About AMC
AMC is home to some of the most popular and acclaimed programs on television. AMC was the first basic cable network to ever win the Emmy® Award for Outstanding Drama Series with "Mad Men" in 2008, which then went on to win the coveted award four years in a row, before "Breaking Bad" won it in 2013 and 2014. The network's series "The Walking Dead" is the number one drama on television for the last six seasons among adults 18-49. AMC's other current original drama series include "Better Call Saul," "Fear the Walking Dead," "The Terror," "Into the Badlands," "Humans," "Preacher," "The Son," "McMafia," "Dietland," and the forthcoming "Lodge 49" and "The Little Drummer Girl." AMC also explores authentic worlds and discussion with original shows like "Talking Dead," "Talking With Chris Hardwick," "AMC Visionaries" and "Ride with Norman Reedus." AMC is owned and operated by AMC Networks Inc. and its sister networks include IFC, SundanceTV, BBC America and WE tv. AMC is available across all platforms, including on-air, online, on demand and mobile.