Games
Next Games and AMC Celebrate Six Years of The Walking Dead: No Man's Land with 23 Million Downloads and 131 Million EUR Lifetime Revenue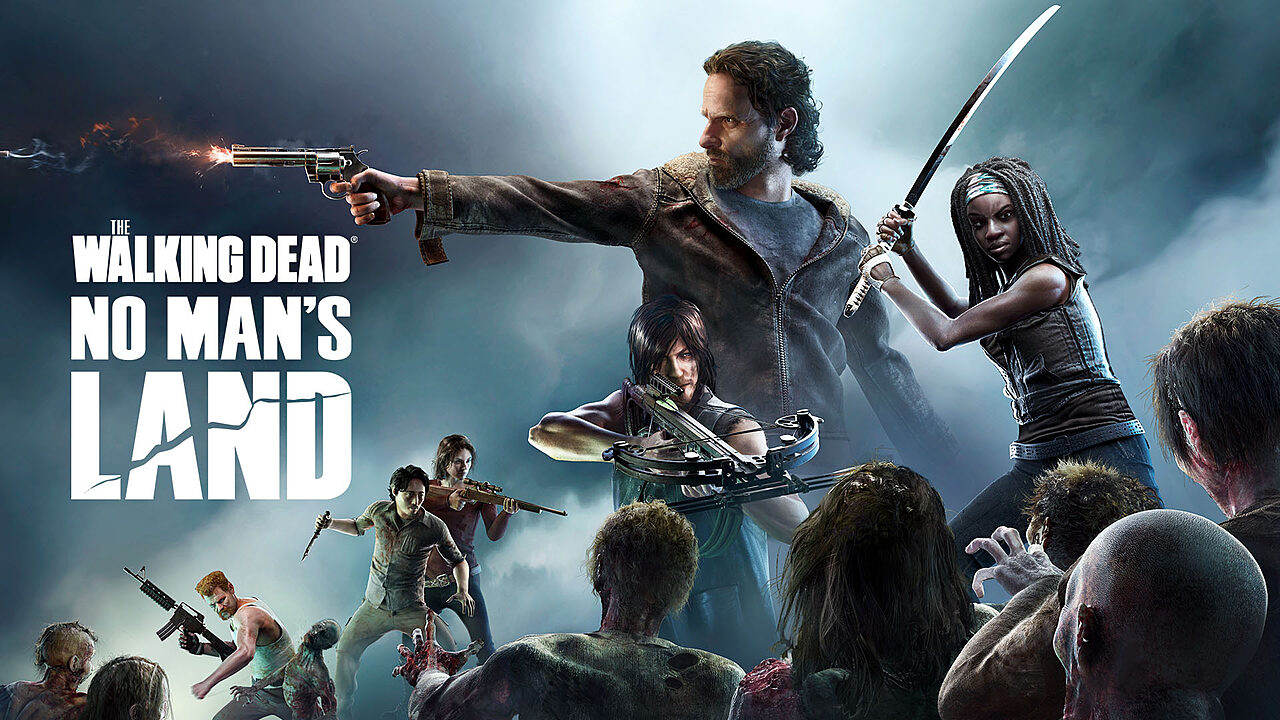 NEXT GAMES CORPORATION, COMPANY RELEASE, 7 OCTOBER 2021 AT 3.00 p.m EEST

Next Games and AMC Celebrate Six Years of The Walking Dead: No Man's Land with 23 Million Downloads and 131 Million EUR Lifetime Revenue

Successful Mobile Game Marks the Anniversary with New In-Game Events For Players Including Exclusive Rewards and More Beginning October 8.
The Walking Dead: No Man's Land, a mobile game created by Next Games in partnership with AMC Networks, is celebrating its 6th anniversary this month – just in time for the Season 11A Finale of The Walking Dead's this Sun., Oct. 10 on AMC. Originally launched in 2015, the game has since cumulatively generated 23 million downloads, tripled its average revenue per daily active user and is played up to 70 minutes per player every day.
To mark the anniversary, The Walking Dead: No Man's Land will be hosting a variety of exciting in-game events for players throughout the month, including a three-week long campaign to win exclusive rewards, all-new Legendary anniversary weapons, and an Anniversary Radio Call that will allow players to unlock fan-favorite characters.
One of the key ingredients in the game's success is that Next Games has always kept the player community at the front and center of the development process. The game has received over 40 content updates alone, many of them based on player feedback. The game has also seen much-loved television series integrations, including the simultaneous release of in-game content tied to the airing of the most recent episode on AMC, revealing sneak peeks to upcoming The Walking Dead episodes within the game, and fun collaborations with some of the show's fan-favorite actors and Talking Dead's Chris Hardwick.
Teemu Huuhtanen, CEO, Next Games: "The Walking Dead: No Man's Land has been a fan-favorite for years, for a good reason. We respect our player community and the original series and its fans. I'm also very proud of the small team delivering such excellent results and exciting content year after year. For the rest of Season 11, we once again have surprises in store with many moments captured from the series."
Clayton Neuman, VP of Games, AMC Networks: "AMC is so proud to have partnered with Next Games these past six years to deliver our fans a consistently excellent interactive experience. Just like the television series, The Walking Dead: No Man's Land continues to surprise and delight year-after-year. We couldn't be more excited for players to take part in our anniversary celebrations, and to discover what's coming up next in the game."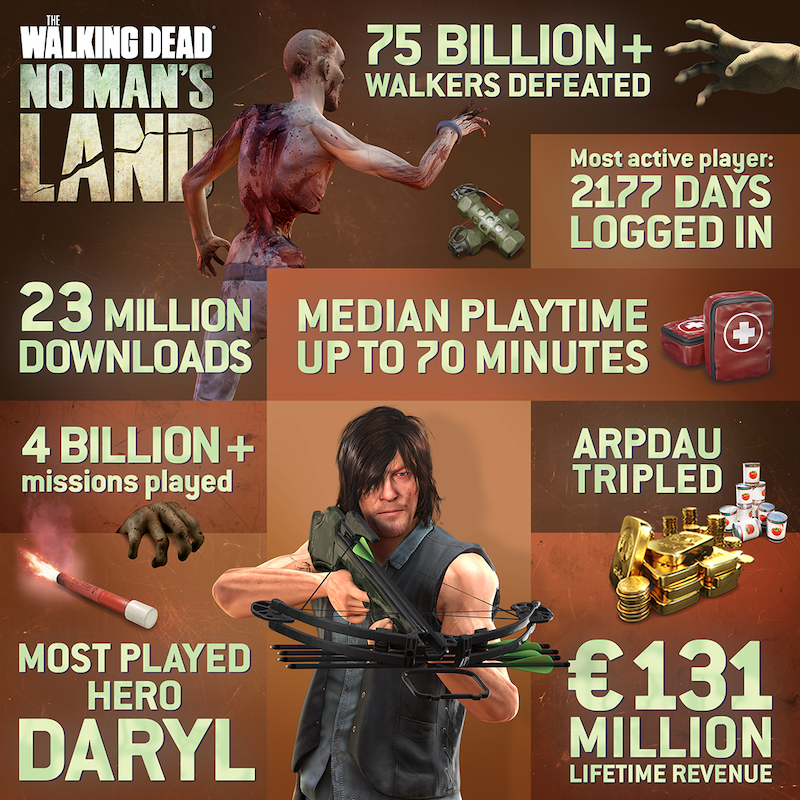 Key Lifetime Facts in Short
23 Million Downloads
131 Million EUR Lifetime Revenue
Average revenue per daily active users (ARPDAU) tripled
Up to 70 minutes playtime per day
Days played by most active player: 2177 (5 years, 11 months)
Over 75 Billion eliminated walkers
Nearly 4.5 Billion missions played


Assets:
Game download link: www.getnomansland.com
6th Anniversary video reel: https://www.youtube.com/watch?v=ilDSOrpPajw 
Infographic as attachment.
Press contacts:
Saara Bergström
Chief Communications Officer
+358 (0) 50 483 3896
press@nextgames.com
Jessica Nicola
jessica.nicola@amcnetworks.com


Next Games
Next Games (Helsinki Nasdaq First North: NXTGMS) is the first publicly listed mobile game developer and publisher in Finland, specializing in games based on entertainment franchises, such as movies, TV series or books. The developers of the critically acclaimed The Walking Dead games redefine the way franchise entertainment transforms into highly engaging service-based mobile games. Next Games works on multiple new games based on beloved global IP's, including Stranger Things: Puzzle Tales based on Netflix's hit 80s horror drama series and Blade Runner: Rogue based on Blade Runner movies. www.nextgames.com
About AMC
AMC and the AMC+ premium streaming bundle are home to some of the most popular and acclaimed programs on television. AMC was the first basic cable network to ever win the Emmy® Award for Outstanding Drama Series with Mad Men in 2008, which then went on to win the coveted award four years in a row, before Breaking Bad won it in 2013 and 2014. The network's series The Walking Dead is the highest-rated series in cable history. AMC's current original drama series are Better Call Saul, Fear the Walking Dead, The Walking Dead: World Beyond, Kevin Can F**K Himself and the forthcoming 61st Street, Pantheon, Interview with the Vampire, Dark Winds and Moonhaven. AMC also explores authentic worlds and discussion with original shows like Talking Dead, AMC Visionaries and Ride with Norman Reedus. AMC is owned and operated by AMC Networks Inc. and its sister networks include IFC, SundanceTV, BBC America and WE tv. AMC is available across all platforms, including on-air, online, on demand and mobile.
Attachments